Booze
.

Rock N' Roll

.

49ers

.

Bands

.

DJs

.

Karaoke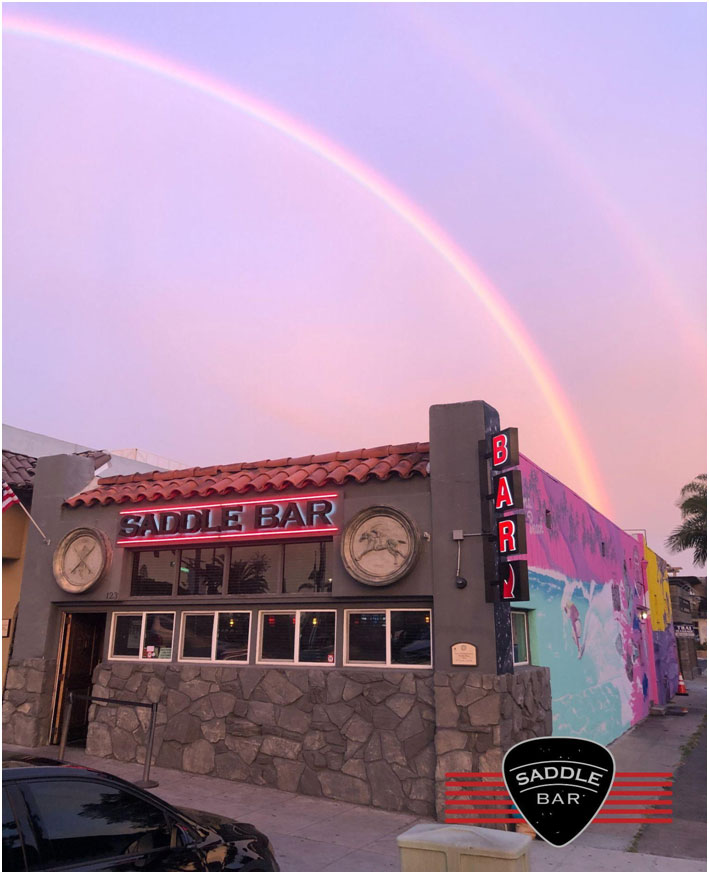 Your Solana Beach Local's Bar
Saddle Bar – A true California, beach-side bar born over 60 years ago on the hallowed grounds of a 1920's era bike shop, Saddle Bar is now a destination for sports, live music and DJs in North County San Diego. Whether you walk, bike, drive, or come right out of the surf, everyone is welcome.
Nearly every Solana Beach local has a Saddle Bar story. We believe that sharing stories and joy at the Saddle Bar make us better natured people. We are an intimate sanctuary (read "dive bar") for people to 'speak easily' as we encourage engagement with staff and patron's with lack of pretension. From horse racing fans heading to Del Mar, to travelers looking for a fun place to have a drink and let loose, the Saddle Bar is a forum for philosophical exploration and entertainment……in other words…. Booze and Rock n Roll!
Rachael Sass
Fun 49ers bar in Solano Beach! Smallish place with a woody interior. The vibe is super chill and it's a great place to watch the game. Occasionally there is live music, karaoke and pub games. They don't make food, but you can order from next door or BYOF. Only downside is one women's bathroom stall. Otherwise, super fun!!
Robyn Rodriguez
I visited the Saddle Bar with my boyfriend and we both loved everything about it! The bartender was awesome he was super attentive. The drinks were amazing! I will for sure be coming back and recommending this place to my friends !
Marc Graham
Always a cool spot to stop in for a local draft beer after a walk on Solana Beach.
Justin Maatubang
Small place that's full of character. The barkeeps were awesome.
Sean Schuster
What a fun place, we had a blast, cool people, great staff… loads of fun, recomended